Weaving vanishing landscapes with the rigor of a scientist and the lyricism of a poet, Alexandra Kehayoglou is known for her 1.44 kilometer long green carpet on the Dries Van Noten runway
The artist from Buenos Aires is known for her tufted fabric works. Yet an encounter with Alexandra Kehayoglou's tapestries does not only involve sight. It is an experience where touch is encouraged, and the smell of wool and its pigments, mostly natural, engages the senses. This is a new kind of art-making. Her work seems to affect viewers beyond any institutional framework, whether gallery or museum. It is as if her woven depictions of the endangered landscapes of Argentina, or her material reflections on water resources, and recreations of meadow landscapes or mossy banks, reach beyond the localized cultural horizon.
Perhaps best known for the 1.44-kilometer-long green carpet utilized by Dries Van Noten. On his 2015 runway, Kehayoglou presented Prayer Rugs: flowerbed, rocky plain, forest glade, or her beloved Argentinean pampas. Each creation, woven into the shape and size of a mat for prayer, allows its viewer to engage one-to-one with an icon that seems to be nature itself, and thus worthy of worship. The works are woven after a scientific research phase in which Kehayoglou studies her natural subjects. She has undertaken expeditions in Patagonia and traveled to some of Argentina's most ancient and inaccessible landscapes in an effort to depict the actuality of the land. It is environmentalism that combines the rigor of the scientist with the lyricism of the poet.
Kehayoglou dissects her subjects into plots, then sub-plots, and weaves them, on huge looms, using a kind of staple-gun, and with the help of only a few trusted assistants. The colors, height of wool threads, texture, and overall impression must get into a composition at both distance and up close. The technique involves translation from drawing to digital files to the hands-on work of the weaver, aiming for closeness and trusting in approximation as the form of rendering. Actor Will Smith posted a photo of himself lying on top of her landscape depicting the endangered Argentine Santa Cruz river presented at Melbourne's NGV Triennial.
Kehayoglou worked for Hermès, in both Singapore and Athens. Her art is featured at Sketch in London and was premiered at the Onassis Foundation in New York. The collaboration with Dries van Noten, Parzival DVN, still stands out for bringing the models, literally, to their knees. This installation, subsequently acquired by the Belgian designer, conjures up women in landscapes, such as Edouard Manet's Le Déjeuner sur l'Herbe, in an archaic Paradise created with one the world's most ancient materials — tufted fabric. In recent work, Kehayoglou introduces the traces of Neolithic humans even into textile. Their veneration of the land plays itself out in the plight of present-day aborigines, imperiled throughout South America. Kehayoglou seems to take the world on her shoulders in these arresting installations and environments — produced, as perhaps by no other artist of her time, in symbiosis with her subject.
«My work had to do with the vanishing landscape. I felt this matter ever since I was a little kid. I feel like an observer, someone present from afar; I make pieces that bring realities closer — I like to see them as bridges. I am an artist that makes tapestries, carpets, I am a textile artist or a painter or a sculptress. All of these fit my description. Every work we make at the studio has hours of drawing, planning, and deciding colors behind it. There are no recipes».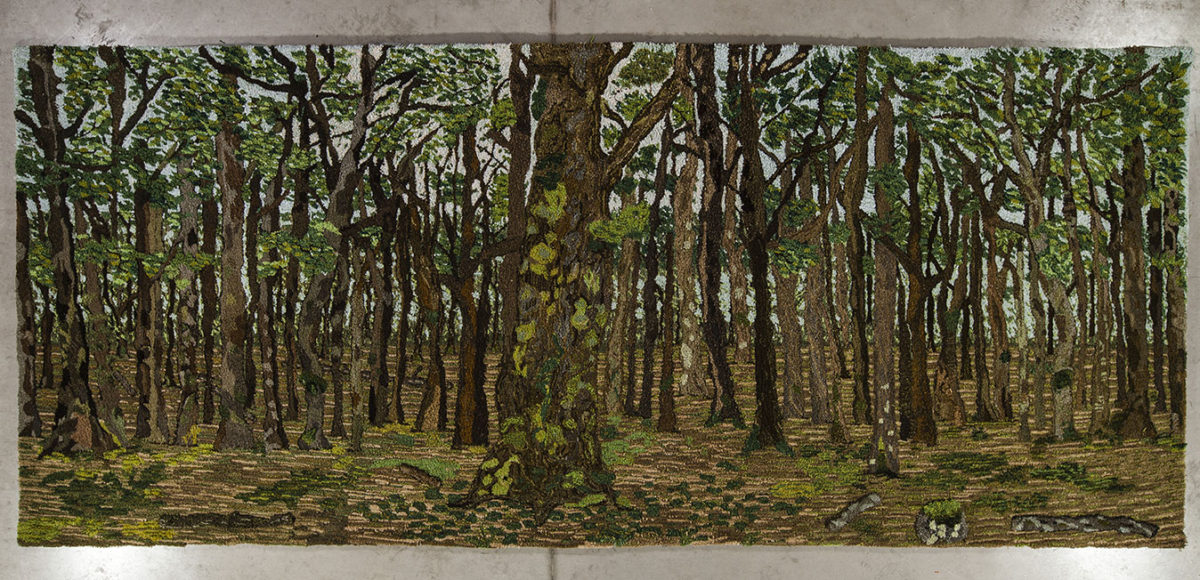 Cornelia Lauf: You started out with images of places and seasons, and are now making almost tautological works, where the thing you weave is the thing itself. An arc from the art of illustration to language of itness.
Alexandra Kehayoglou: It brings together past, present, and future but it is atemporal. I always felt this thing of reality and illusion a textile can give, in my aim to represent this idea of time, and its presence or its absence. I create spaces in which a body can feel itself. I have a book in my mesa de luz of the complete poems by Alejandra Pizarnik. I open the book, read one, then close it, and it's kind of a book companion. I read about magic, indigenous communities, voyages. I met good friends working with Dries van Noten that inspired me; the show brought attention to my work, and I am thankful for that. I had to make friends with the idea of not fitting, but that is something that happened to me all my life. My work does not fit in the existing systems, I trained and studied to be an artist, but in a way, there is something comforting in not fitting into the art world. There is more freedom.
CL: Your visions of time and your visions of ecosystems at risk are conflating. There is a sense of timelessness and also urgency in your works. They span different modalities. There is a new field of data visualization.
AK: A carpet is a testimony. Textiles have told us about the way humanity used to live. If a river is about to disappear, and its destruction is imminent, and I am drawn to make a carpet that reproduces it, and offer it to be experienced, such as the damming of the Santa Cruz River, the last free-flowing river of Patagonia, the fury that this act of corruption and destruction produces in me — my task is to preserve a slice of it. That work is a document of that fraction that no longer will be. But the weaving of it turns into a prayer, a mantra that is constantly being repeated each time the stitches navigate the river.
I spent ten years depicting fading lands and ecocides mainly from my country. I created hundreds of works that represented the Pampas pastizales, an ecosystem that disappears as the transgenic farming goes forward. I have gone deeper into specific ecocides like the two hydroelectric dams that are being constructed in Patagonia, which will kill a river cutting its free flow, violating all regulations. My intention was to bring awareness of such landscapes, and, as I said before, I now understand that this outcry must be done from a place of compassion for ourselves for having created such a nightmare. That is the main reason for which I make art. I think the harm we do to the earth is a reflection of the harm we do to ourselves. Nature will prevail. We are involved in vicious cycles of consuming and owning, not deeply realizing that this embodies our own self-hatred. It is not Nature needing to be saved, but more a question of our being saved.
CL: Can you speak a bit about your training as an artist?
AK: When I was a kid I was attracted by the Impressionists, maybe some of this is present in my work. Today I can relate with the work of Louise Bourgeois, working through family karma. Now I am closer to the work of Georgia O'Keefe. I have been inspired by arte rupestre in natural sites. My training began at home; I started painting when I was two years old in a nearby kids' art workshop. I remember they made popcorn in a pan on the floor, connected to a gas bottle, and it was next to the river. There were chickens running around, and there was this long table with pots of paint. Each kid went with their wet paintbrushes and would paint on their paper stuck on the wall. It is one of my first memories. We would go walking from home with my mother and my sister; I still have two paintings from that time. I had a nice art training in high school; this probably encouraged me to study fine arts here in Argentina. Precarious infrastructure, politicized, and unstable. It was an experience of six years studying art history and local culture, always political. When I started tufting in 2006, I put in a lot of hard work and physical effort. I would stay hot summers working on a piece inside the factory (it was a time when production stopped so I could use the facilities). In the last few years, I have been sharing my practice with my partner, José Huidobro. We have been working together for some years, discussing and creating art and now a child. The studio is really simple. I work together with four assistants.
---
Alexandra Kehayoglou was born in Buenos Aires, Argentina, in 1981. Her family manages the leading carpet business in Argentina — the fruit of several generations, begun by a weaving grandmother who emigrated from Greece, armed with a wooden loom. Kehayoglou became fascinated with the possibilities presented by the discarded carpet fibers in her family's workshop. Kehayoglou has created monumental textile installations for contexts ranging from museums (Onassis Center, New York; Chiostro del Bramante, Rome; National Gallery of Victoria, Melbourne), to clients in the fashion industry (Dries van Noten, Hermès), the hospitality sector (a restaurant in Austin, Texas, and Sketch, London), the health industry (Sloan Kettering Hospital, New York City), and the World Bank, Washington, among others. She has participated in numerous international textile biennials and exhibitions and navigates the interstices between art, design, and craft, with her precise working method, sense for materials, and environmental vision. A publication featuring an overview of her projects will be published by Buchhandlung Walther König in 2020. Alexandra Kehayoglou lives in Buenos Aires, Argentina, with her husband, artist José Garcia Huidobro, and two children.