On the occasion of the opening of Feltrinelli's store in Piazza Piemonte, Sales Director of Business, Retail & Experience Alessandro Monti talk about the chain's present and future
La Feltrinelli – Piazza Piemonte
As the Covid-19 pandemic's grip is weakened by vaccines all over the world, Feltrinelli celebrates the re-opening of its Piazza Piemonte's store. We reached out to Alessandro Monti, the Sales Director of Business, Retail & Experience, to talk about the venue's refurbishing and how to sell and disseminate culture in 2021. The decision of renewing the store was not an easy one from an economic standpoint: «the 2011's crisis and Amazon's arrival put a strain on physical retailers like us. Renovating a 1500 square meter bookstore is a risk in this kind of environment». Feltrinelli decided to up its ante though, revolutionizing Piazza Piemonte's space from the very building: «we tried to strike a balance between our shops from the Eighties, focused on selling books, and the ones from the 2000's curated by Argentine architect Miguel Sal, when the company opened its offer to all kinds of media and products. We don't have a team of in-house architects since after 2010, our development slowed down: for Piazza Piemonte we hired a firm of architects that worked close to the rest of our team, in order to develop the best result possible. Some of the bolder choices like the floor, adorned with the kintsugi technique, were decided together while the restoration was already taking place» An earthquake of novelty shakes also the store's offer, now empowered with various collaborations from different fields: «We delved into niches such as law books and second hand school books thanks to our partnership with Libraccio. As a regular client I can say that having a service that also hosts rare or forgotten titles really helps to round our selection».
La Feltrinelli's customer care
Bookselling is refined by the addition of client data and video reviews, filtering Feltrinelli's customer care with the lenses of technology: «the number of books you can read is almost infinite, and every person is different in its own way. To make a reader happy you have to find the right book for him and be able to explain why he should buy it. In order to better fulfill this task we developed two strategies, starting from the use of the client's personal data (with his permit). The booksellers can consult the previous purchases done in Feltrinelli and direct the customer to the products that can interest him the most. The video reviews proved to be an answer to the other half of this conundrum, galvanizing dozens and dozens of our 1200 booksellers. Thanks to this format you can hear people describing books they love: anyone can talk to anyone about any book, creating a network that can boast the customer's drive to explore our offer. In Piazza Piemonte we installed fifteen monitors, all broadcasting nonstop reviews: the reader hears the bookseller talking about a title, gets curious and approaches thousands of reviews to be scoured». To challenge the internet's competition, Piazza Piemonte's shop aims to develop a multifaceted experience: «Today every customer has an alternative to your bookshop in the online stores, therefore you have to work better than 10 or 20 years ago to convince them to come back. We want to enrich our stores with products that may interest our readers, from the food at our quality bar to a room with advanced gaming stations, which appeals to youngsters. This last space is really important as it allows us to welcome a demographic that would hardly enter into a small independent bookstore».
La Feltrinelli's approach with games and music
Feltrinelli's approach with games seems to reenact the work of divulgation they already did for comics, an attempt to give dignity to a media considered lowbrow. The shop's attention goes also to tabletop products, a selection of titles that aim to wipe dinosaurs like Risiko! and Monopoly off the market: «in approaching games we were guided by the experience of Lucca Comics & Games: if you attend the fair you realize that there is a world of potential customers ready to be sated». The crisis of local game stores seems not to trouble Feltrinelli, certain that the market will bloom «the stores that sell toys, games and board games suffer the crisis of retail. Tabletop games' market is still in an early stage and the shopkeeper who has to pay rent every month is in trouble because the demand hasn't already reached a high level. It's an area that will grow every day, and we keep a place for it in every store». To be able to host events, a dedicated space was opened: «We even created an arena that can house physical meetings with authors and didactics. The chairs can be used by customers on regular days but, when we organize an event, the arena can be isolated from the rest of the shop, allowing people to enjoy the courses that Feltrinelli is preparing with Feltrinelli Education». To accommodate its retail space to these offers, Feltrinelli had to rethink its relationship with other goods, starting from video: «we decided to narrow the video department. This market is currently suffering and we decided to reduce the assortment now in order to anticipate the sales' trend. Knowing that this is going to be a niche, we decided to choose a precise positioning with the help of a partner of choice, Cineteca di Bologna. They helped us in picking specific themes we then cover completely: if we are talking about Fellini, you'll find in our store all his filmography. These offers will change every one or two months, so that people can be thrilled about an ever-changing selection of goods, despite their number».
Music also sees its share of shelves axed «The space dedicated to music has also been reduced, as the rising niche market of vinyl and limited editions isn't able to amass significant numbers. As far as CDs, which still generates the majority of this department's sales, it's still selling thanks to genre's aficionados like metalheads and jazz enthusiasts, who look for a better sound quality than Spotify's downloaded music. We mourn the bestsellers of old though: in the middle of the Top of the Pops season we were selling literally shovels of 20 euros Mariah Carey's CDs». The old megastore days are dimming, and Feltrinelli must return to its roots: «A renewed focus on books is the way to go. I have seen the evolution of this chain from the Nineties, when we were only 25 bookstores, up to our maximum point of development in the mid 2000's, with 115 bookstores. For forty years we have been the leader in Italy as a chain of physical bookshops, but in these forty years the market changed a lot. In the beginning of 2000's, when we began to open megastores following a trend that had developed in France with the model of FNAC, we showed that we knew how to create a hybrid format that sold books, music, videos and then videogames, multimedia and stationery. Our choice at the time paid out, and we were able to develop and cement our position, acquiring other businesses. It was the right thing to do at the time, but today we must return to our core business. We are recognized by all readers as a bookstore, and books are the strongest commodity of our catalogue now, since music and video have been dematerialized and are mainly sold on the internet. During the lockdown there was a spike of purchased books, due to the lack of alternatives for home entertainment: sometimes you're just bored of watching Netflix».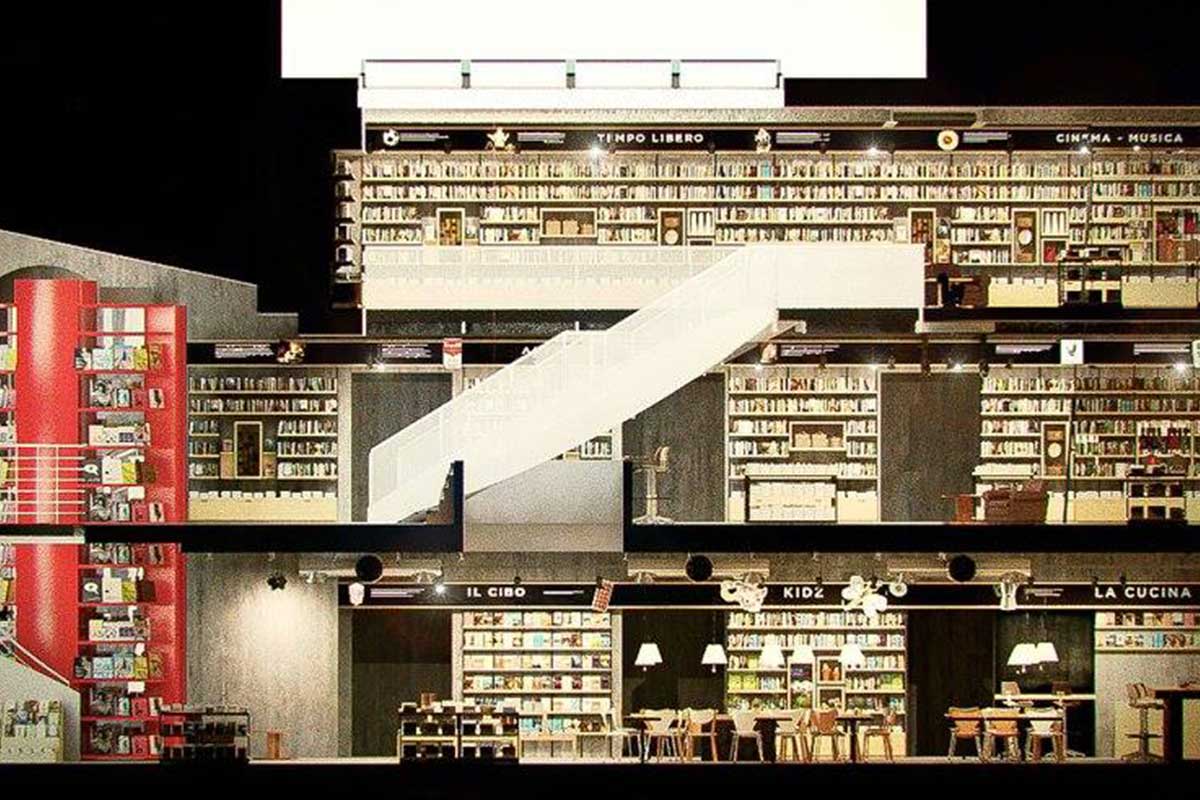 La Feltrinelli's divulgation of culture
Feltrinelli also has a reputation for being a brand linked to the divulgation of culture, something critical in times like ours. When asked about how to keep this flame burning, Monti showcased us his views: «Bookshops can create culture by putting the right book in the hands of the right reader, as until that moment culture lays dormant within the pages. The starting moment of this process is selection: today in Italy there are 300,000 different titles on the market and, like when you're looking for a restaurant, you need something like a Michelin guide, something that can show you only the top 30-50 titles to choose from. There is then presentation, that is often undervalued but has a crucial role in attracting the reader's attention: a showcased book receives another kind of attention compared to the one just slotted in a library. The last step of this process is the relationship with the bookseller himself, who can in time learn the preferences of his most affectionate customers or, with the proper experience, even be able to read with success new ones. Talking to a bookseller also creates a human bond that resists time: sometimes I meet people that I advised when I started working here and they remember me thanks to my suggestions».
Lastly, we asked about what the future has in store for Feltrinelli. Monti is sure: it will be books, books and books: «if you are a demanding reader the width of your bookshelf will only grow, and this will be true also in five-ten years. In Italy the book market is fed by a few strong readers, while in Anglo-Saxon countries the market is horizontal. When a book becomes a bestseller, millions of people buy it there, and therefore the share generated by those who buy 10, 20 or 30 books a year is less important, because there is a large base of readers. Digitization certainly hurts us, but it's not enough for book aficionados: people get tired of the online automated suggestions and the sponsored contents, they need a place to come back to, and there we are. Italy's base of strong readers who will remain even in five years, ten years, twenty years. Of course, the shop's surface will change, adapting to the customer's request: if we'll no longer afford 1500 square meters, they will be 1000 square meters, if they are not 1000, they will be 500 square meters. We will adapt to the context but, ten years from now, twenty years from now, there will be a Feltrinelli bookstore of the largest possible size, with the best possible assortment of books that we would have been able to grow and maintain. There will still be a Feltrinelli bookstore because there is value in what we offer to customers beyond the books».
IMAGE GALLERY
---
Alessandro Monti is the Sales Director of Business, Retail & Experience of Feltrinelli's shop in Piazza Piemonte, Milan. Feltrinelli is an Italian chain of mediastores born as bookshops.