Haute Couture designer – Rahul Mishra, and the founder of Nest – Rebecca Van Bergen on providing artisans with a favorable working environment. Implementing in home work practices
The Fashion Pact, founded last year, has now gone through its one-year review, focusing on biodiversity, climate, and plastics reduction. One of the aspects missing from this year's review that has attracted criticism, is the lack of consideration for the human element of sustainability in fashion – it's workers.
Since the 2013 Dhaka garment factory collapse in Bangladesh, one of the concentrated locations for fashion production factories that killed 1,134 workers and injured over 2500, the industry has had to face up to its lack of accountability. It has taken some steps to alleviate the problem, however, this year, as COVID-19 ravaged the world, halting orders from places like India, Bangladesh, and other textile production locations, garment workers were left without jobs. Many high street and high-end brands pulled their orders, leading to a deepening crisis for garment workers. In a report by the International Labour Organization and the Better Work group, a partnership between the UN's International Labour Organization and the International Finance Corporation, COVID-19 has had a ripple effect on production, with «global garment trade virtually collapsing in the first half of 2020». For many years, factory work has been touted as ineffective and damaging, with the growing health concerns overcrowded spaces and a lack of oversight and legislation allowing third-party contracting to exploit areas where textile production and craftwork have been handed down for generations.
Some brands and organizations have been working against the tide to help workers create safe, flexible working conditions that bring them out of cities and back to their homes. The Nest's non-profit founder – Rebecca Van Bergen, and haute couture designer and supporter of traditional craftsmanship in India – Rahul Mishra worked to support craftwork for marginalized groups, securing their jobs through longer contracts, helping them work with brands, and re-organizing structures created to prioritize factory work over home working in terms of safety and quality assurance.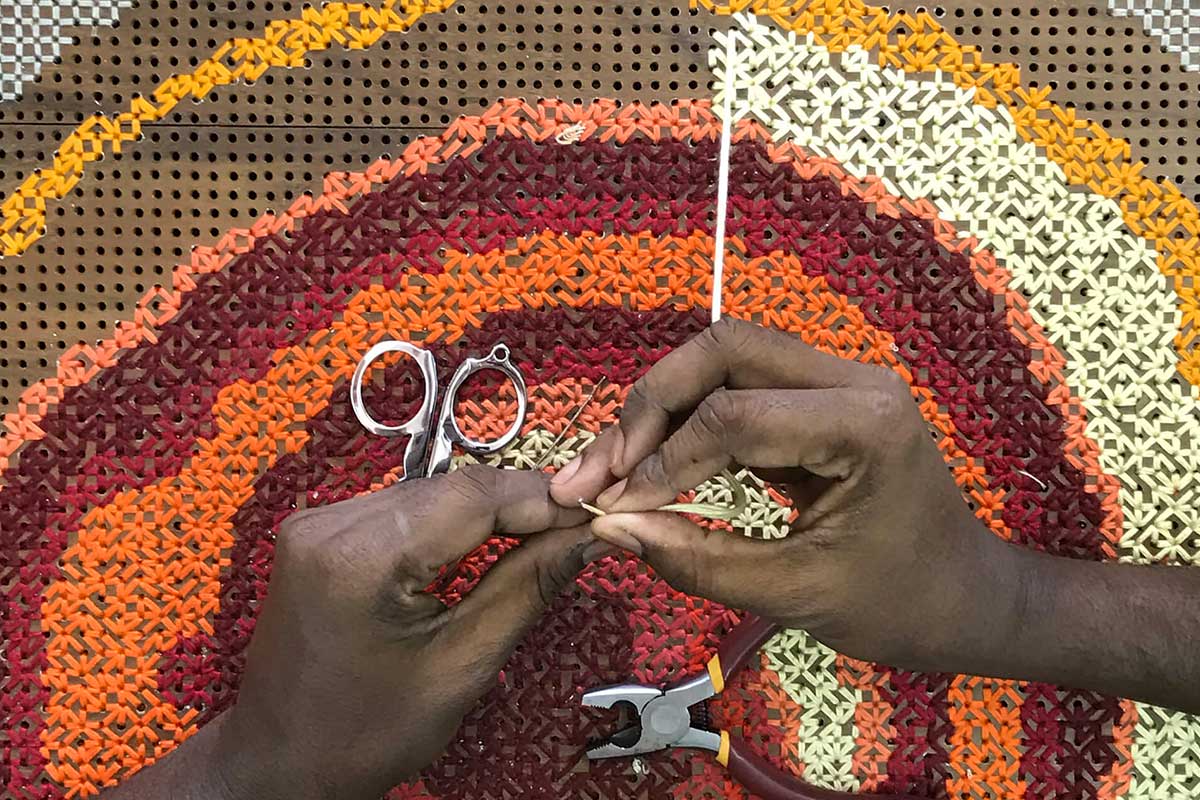 Rahul Mishra comes from Malhausi, a small village in India, where he grew up before entering the National Institute of Design. He met M.P. Ranjan, a leader in design thinking that helped him realize production problems without purpose. «Mahatma Gandhi used to say that any step you think about taking in any direction, think about the weakest person you have come across or met your life, how it can help or harm him – then you decide your path. Whether you are buying or recreating something, whatever you do in your life – think of the weakest person you have ever met. It is a simple mantra – I am a designer; I have to make clothes. Instead of employing new machines and big companies to produce my things, I am going to employ humble craftsmen to empower them. In Hindi, there is a word 'Swaraj', or self-reliance. Ultimate independence is when everybody is self-reliant, and they can earn their own living. That is what I tried to do, and how everything evolved». Rahul has since worked with artisans on bringing them back to their villages and setting up clusters where they can work together in their homes. Their work on his haute couture pieces provides them a stable income outside of the shorter contracts offered by fashion companies that look at their embroidery as a trend rather than a long-term collaboration.
One of the issues with factory work in garment production hotspots like India and Bangladesh is that as an industry, it has allowed for workers to move away from their villages and gather in expensive and overcrowded cities like Delhi. Mishra's experience of working with artisans when founding his brand was pivotal in the way he has approached working with them and decentralizing the production process. «In India, the biggest crisis was the migration crisis. In 2014, I started a program where I went to slum areas, and realized that I cannot get my work produced from there, even though they were producing for some of the top brands. What I asked them instead was whether they would like to go back to the village. The first thing to know about production work is that in India, there is no opportunity for jobs that reach the villages. Most of the time, people have to migrate out of the village. When they reach a city, they either become laborers or embroiders, craftsmen. These people can see how cities are so expensive; they end up living in slum areas, which creates slums in cities. For most of them, their dream is to build a house in the village where they were born. Over the first ten to twelve years, they save enough money, but they only spend 10 percent on themselves every month, and the rest of the money they send back home. With that money, the houses are built and finished properly; it takes care of their family, parents, and children's education. For these people, because there is no work for them in the village, they end up spending their lives in miserable conditions, working and sleeping in overcrowded rooms of twenty people to 10 feet by 20 feet area. To go to the toilet, they have to walk almost two kilometers to an area for open defecation. When they come back, there is no water even to drink or to take a shower every day, and with the hot and humid conditions of Bombay, it is dangerous. That is why I started to reverse that process. Now, more than 200 people in one of these small villages have gone back, and they all work from there, making embroidery. I am decentralizing the process right now. It started six-seven years back as an experiment, and now the workers live near their families, get home-cooked food, take care of their parents and children, and live a happy life. When they lived in cities, they had to do unproductive chores every day because they were living alone. They would get one cooked meal at night, and the same meal would become breakfast the next day. These are bad conditions to live in, and I am happy that 85 percent of our production work comes from the villages of India».
As rent is high and the garment contracts can be short, ranging from three or four months to longer periods, workers cannot find adequate housing and instead live in slums. For women, safety issues with working outside their home arise as many locations are not safe to work in. An Economist article from July 2018 cited that, «public safety for women remains an oft cited barrier for employment. Some cities, notably the capital, Delhi, are perceived as inhospitable to single women». For Mishra, «as a brand, we are able to keep our relationships with each of our workers over the last seven or eight years from the time I started doing embroidery. During the pandemic, we have retained everyone, no matter what position. We did not have a single furlough for anybody, that is where I would say our supply chain has shown its attributes because it's also socially audited, and we are very transparent about it. We always share that with people because if you acknowledge it, you need to own it. As a brand, the first thing to do is acknowledge. After acknowledgment comes writing a speech to them, and making sure it is genuine. Then it is also about replicating how we work, so if I design something, we have got our in-house team who designs and then we decentralize our production system – we do not like to create a big factory within one area. In light of the pandemic, we have also learned this».
Although fashion brands can, and should, approach workers from within their own supply chain, others are looking at ways that artisans and craftworkers worldwide can function as SME (small and medium enterprise) from their home. Rebecca Van Bergen, who is based in America and coordinates Nest's activities, a non-profit that works towards helping women and craftworkers develop in their field, started through a master's degree in Social Work at Washington University. «From the lens of social work, which is about human to human support, it seemed challenging to give out debt without training, resources and advice for market building, business development, and education. I decided to found Nest around that principle, offering holistic support for these workers, largely women, recognizing that the craft sector is one of the significant employers of women globally, especially in emerging markets».
The Nest non-profit works through a number of routes, one of which is the Nest Guild that connects more than 500 artisan businesses across over 90 countries. «We find artisan businesses in many ways – often, they find us through research or word of mouth. Our team also meets artisan partners during our travels and at trade shows and events and we do strategic research when partners are looking for specific techniques», says Van Bergen. The organization also runs a sourcing collective, an artisan accelerator, and sets the standard for home working through its Nest Standards for Homes and Small Workshops, as well as setting out the guidelines for the Seal for Ethical Handcraft. These schemes focus on legitimizing the home worker industry through improved and legislated safety regulations and growth programs like the accelerator, giving training and resources to artisans, and allowing the organization to tackle handcraft and home working at every level. It helps women to develop businesses that can be both flexible, new routes for handcraft like 3D printing, and extend cultural knowledge of textiles and traditions. Rebecca Van Bergen: «One of the changes that came from working with companies is that the larger the company, who wants to source from artisans, becomes, the more we have to think about compliance and transparency. When small companies do it, they know their supply chain, and it is easier to wrap your head around what your production looks like. The larger the company, the larger the orders, the harder it gets. About seven years ago, we reached a group of brands and industry partners that came to us. They said that the barrier for them in expanding their commitments and employing more artisans in their supply chain was the lack of shared industry standards for production, especially, when artisans are in homes or in informal workshops where visibility is harder. We started this journey to create our standard for production that happens in these unregulated spaces».
Addressing the industry's shortfalls in terms of uneven production cycles, the lack of legislation and relationships between brands and craftsmen through work by designers like Rahul Mishra, and the work of non-profits like Nest can improve the industry. Many advances – the introduction of funding, growing accountability and technological improvements through blockchain – can map the products' cycle from end to end. It leads to a better relationship not only between brands and workers, but consumers as well, who would appreciate the link between their item and the people behind its creation. Often, designers and brands are the only ones credited for the craftwork that goes into these pieces.
IMAGE GALLERY
---
Nest
Nest is a nonprofit that works toward building a new handworker economy to increase a global workforce inclusivity, improve women's wellbeing, and preserve cultural traditions. 
Rahul Mishra
Rahul Mishra is an Indian fashion designer who was the first to showcase his designs at the Paris Haute Couture Week, and the first Indian designer to win the Woolmark Prize in 2014.