A hotel open since 1997, located between Positano and Vietri. At the entrance a flower cart, on the piano the pink hyacinths, with Creed perfumes in the boutique
Ravello ceramics have a triangular segment pattern: sunflower petals or sunbeams—the sun in Ravello appeared on Easter morning, after sung mass. Father Angelo shakes hands in the sign of peace with all those in church, going up and down the aisle three times. He speaks about light over darkness—and the clouds move away, the vault lights up. At the end of the service, he announces that the following day he will visit each house to find out all about their talents and cares. Standing at large bronze door, Father Angelo has a little chocolate egg for each of us. An Italian Sunday, the kind that inspires films and poetry to fulfill an international yearning—it's all here, in a town set four hundred meters above sea level, overlooking the sea from the cliff edge along the Amalfi Coast. A maritime republic with oriental influence, from Byzantium to Africa, a trading port – overlooking the balcony of Palazzo Avino Ravello.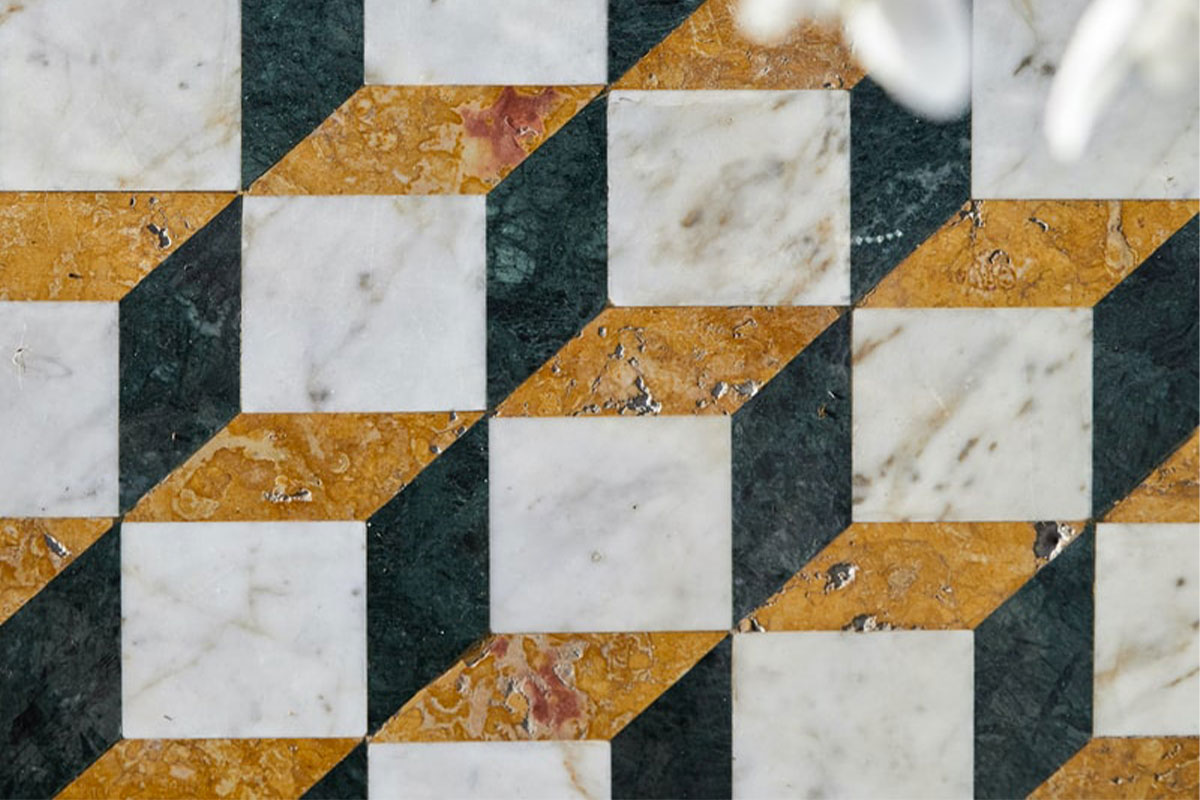 Spring and the buds on the trees, the pruned roses, the maritime pines in their shady colors, the silvery olive trees. Its walls pink, Palazzo Avino Ravello has been a hotel since 1997. It has a flower cart at its entrance, pink hyacinths on the piano, and Creed perfumes in its boutique. The mosaics on the floors are geometric chessboards – the bright ceramics are emerald green in the swimming pool before the Turkish bath.
The casatiello, traditional Easter bread has just come out of the oven, a whole egg in its shell mixed in with the dough. Tomatoes and basil leaves—sugar almonds filled with babà. Sitting on the sofa, a piece of chocolate—on the table there is a book by Slim Aarons, and a retrospective by Olivier Theyskens.
The room has three large windows, wide open with their curtains flying in the draught. Storm clouds still dot the horizon and the sea is rough—the salty air blows in the distance, barely discernible as you read on your bed, a novel by Brunella Schisa, a Neapolitan writer. The sound of water from a fountain wakens you up in the afternoon, the book open in your hands. Some fruit—a pastiera, cinnamon, orange blossom and candied fruit.
On Wednesday 18 November 2020, Palazzo Avino received the 'Industria Felix, Italy that competes' award, in the Tourism category. Delivered in digital form, the award is granted on the basis of a competitiveness algorithm, the Cerved Group Score and the sustainability report.
IMAGE GALLERY
---
Palazzo Avino
Via S. Giovanni del Toro, 28
Ravello, Italy